Since there were no clocks in the room, and Randy's watch had broken the weekend before, we had nothing to wake us up so as not to miss our boat charter at 9:30 (we had been sleeping until 9 or 9:30 the previous days). It turns out that a PowerBook makes a pretty good alarm clock if you start some music playing loudly, set it to wake from sleep at the time you want, then put it to sleep. Woke us up right on schedule at 8am.

This powered sailing ship was in the North Sound.
A quick breakfast, then we picked up the picnic lunch that the kitchen staff made up for us, grabbed our snorkeling gear, and headed to the dock. Our pilot, Mitchel, was there waiting, with his glass bottom boat, the Sea-Thru. We headed to Anegada, which is a low, flat coral island, about 10 miles long. The highest point on the island is about 10 feet above sea level, so you can't see it until you're almost there.

Anegada has just a couple of small docks.

In the distance is Virgin Gorda, where we started.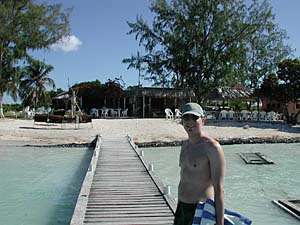 Rick heads ashore, carrying the essentials.
We arrived and hitched a ride in the back of a pickup to the far side of the island, where the snorkeling was better. There was some sort of storm a few hundred miles away which was churning things up, reducing visibility to about 10 feet. We snorkeled a bit, taking some pictures thanks to a cool waterproof enclosure for Randy's Coolpix 990 camera.

Looking back at the beach from the water.
There was a small outdoor restaurant where we laid out our picnic. The cooler was packed full of sandwiches, yogurt, fruit, chips and cookies. There were even plates and a tablecloth, very nice.

Just another day in paradise!
We went to the bar to get some drinks and said hello to some couples who were standing there. They asked where we were from and said they were from Seattle. Rick said that was where he grew up, and they asked what part. When he said Burien, they paused and asked "Where in Burien?". Rick replied "Shorewood". "Oh, our friends the Faths live there" they said. Rick responded by saying that he was a "Fath". It turns out they were good friends of Rick's parents (the Toweys), and Cathy had been in Paris with Rick's mom over Thanksgiving the year before! They were spending two weeks sailing around the Caribbean on a catamaran, and were 6 of only about 10 people on that small island that day. What an amazingly small world!

Rick's Mom will be so jealous!
After lunch we caught a taxi back to the dock and headed south for better snorkeling. Mitchel said he knew a place that was more sheltered, so we headed for Gray Dog Island.

The coral was amazing. Lots of fish everywhere.
It turned out to be much clearer and with lots more fish. We took quite a few more pictures (filled up the camera!), over a hundred just today. Click here for more underwater coral and fish pictures.

Mitchel waited for us to return.

Nice glasses!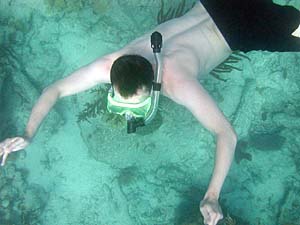 Rick swimming down below.
After a short stop in Spanish Town (the largest town on the island, though still quite small), we headed back to Biras Creek. We thanked Mitchel for the ride and started to walk back to our room. Alongside the dock we noticed a large number of small fish. As we looked closer, we saw a barracuda, a puffer fish, and then an octopus. It was about 18 inches around, and slithering around looking for a meal. At one point it came up on the rocks, mostly out of the water. Then it squeezed under a rock and went down into a hole between two others. More like a gopher than an octopus! The most amazing thing was the way it changed colors. From an orange-brown to a bright aqua in just a few seconds. Amazing.

Our little friend, midway through changing color.
We headed back to our room for a quick shower and change of clothes, then back to the dock for our sunset cruise.

Waiting at the dock before we set sail.
There were about a dozen guests on board, plus the captain and his wife. It was a 44 foot sailboat, although we ran under motor power due to light winds. The captain was quite knowledgeable, and kept us entertained with stories about the locals.

Several other guests joined us.
The sunset was very beautiful, it was fun seeing it from out on the water.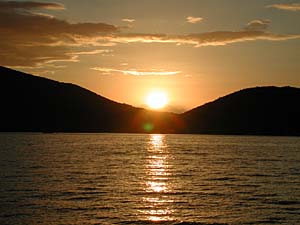 Just as the sun set.

It lit up that small cloud in a wonderful way.
Back at the resort, we headed up for dinner. A cocktail, followed by a great meal, talking about potential water gardens in the back yard in Los Altos. Rick's quite fired up about getting some running water fit in someplace!
Back in the room early, we lounged in bed, Rick watched Romy and Michelle's High School Reunion (he even stayed awake for the whole movie!), while Randy finished the book he had started on Thursday.
Quite an eventful day!